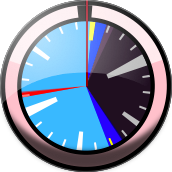 On August 19, 2009, Why the Lucky Stiff withdrew from the online community. We set aside that day, Whyday, to remember Why's contributions to our community and culture by hacking just for the fun and joy of it.
Somewhere between August 20 and 22, 2012, Pair Networks FTP started working well enough to upload Disk Whyday – an annual countdown to Whyday, plus a 24-hour disk to track those hours which are so fleeting – like _why himself.
Disk Whyday is available as a Dashboard Widget, or a live Web App directly from this site.