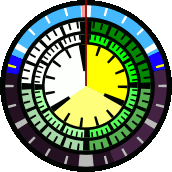 The face moves. The hand stands still.
(Time shown is 12 – 1pm in mid December.)
Ever gotten the minute and hour hands confused? Wondered whether it was AM or PM? Found digital clocks a little too abstract?. The Disk Clock moves disks in what would be the clock face. Each disk has it's own distinct appearance.
There is only one hand. You know where you are – time flows past, with the future and the past uniformly to the right and left. Hours, moons, and years rotate smoothly through their appointed cycles, conveying multiple layers of information. Color denotes season, day of week, hours of daylight, or simply identifies the quarters of more abstract measures.
Usable online (and off) from any device with a canvas-enabled browser.
Disk clock's "native environment", and still one of the handiest – OS X users have beautiful time at the touch of a key.
Disk Clock version 2 is now available in the Chrome Web Store. There is the simple Day Disk and Moon Disk, and the multi-faceted Disk Clock and Disk Calendar.
Wonders From Far and Wide
Check out the Gallery of Unusual Time for some of the wondrous times systems – binary, decimal, hexadecimal, and more which I've run across in the process of making Disk Clock. They are either in the program, or may find their way in at some later date.